Lexus RX (RX 350L, RX450h) 2016-2023 Owners Manual: Checking and replacing fuses
If any of the electrical components do not operate, a fuse may have blown. If this happens, check and replace the fuses as necessary.
1. Turn the power switch off.
2. Open the fuse box cover.
■ Engine compartment Push the tab in and lift the lid off.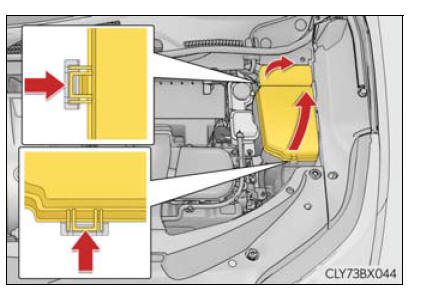 ■ Driver's side instrument panel Remove the lid.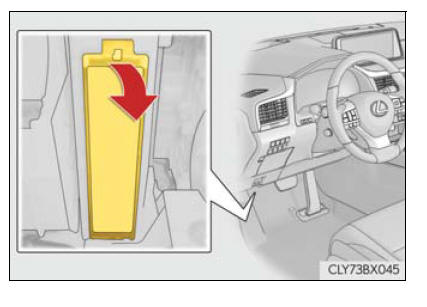 ■ Luggage compartment (type A fuse box)
RX450h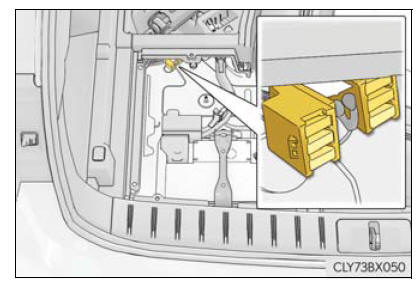 Remove the 12-volt battery cover.
RX450hL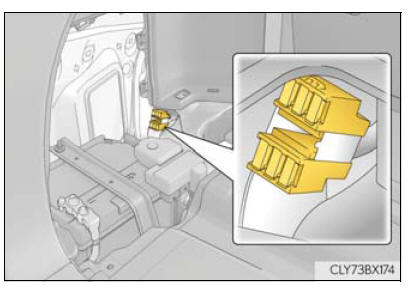 Remove the deck board and side auxiliary box cover and 12-volt battery cover.
■ Luggage compartment (type B fuse box)
RX450h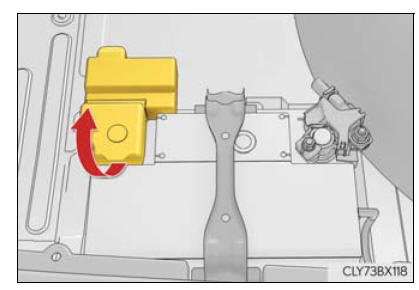 Remove the terminal cover.
RX450hL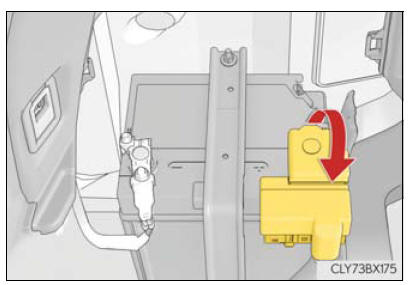 Remove the terminal cover.
3. Remove the fuse with the pullout tool.
Only some fuses can be removed using the pullout tool.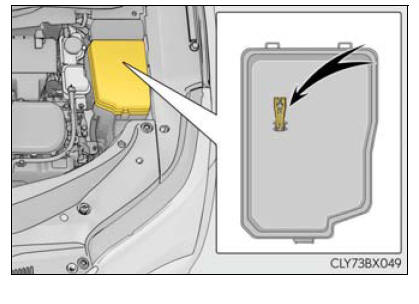 4. Check if the fuse is blown.
Normal fuse
Blown fuse
Replace the blown fuse with a new fuse of an appropriate amperage rating.
The amperage rating can be found on the fuse box lid.
Many types of fuse are used on this vehicle. This illustration shows a common type of fuse used on this vehicle.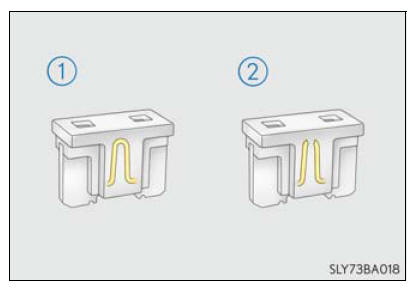 ■ After a fuse is replaced
If the lights do not turn on even after the fuse has been replaced, a bulb may need replacement.
If the replaced fuse blows again, have the vehicle inspected by your Lexus dealer.
■ If there is an overload in a circuit The fuses are designed to blow, protecting the wiring harness from damage.
■ When replacing light bulbs Lexus recommends that you use genuine Lexus products designed for this vehicle.
Because certain bulbs are connected to circuits designed to prevent overload, nongenuine parts or parts not designed for this vehicle may be unusable.
WARNING
■ To prevent system breakdowns and vehicle fire Observe the following precautions.
Failure to do so may cause damage to the vehicle, and possibly a fire or injury.
■ Fuse box near the power control unit Never check or replace the fuses as there are high voltage parts and wiring near the fuse box.
Doing so may cause electric shock, resulting in death or serious injury.
NOTICE
■ Before replacing fuses Have the cause of electrical overload determined and repaired by your Lexus dealer as soon as possible.