Lexus RX (RX 350L, RX450h) 2016-2023 Repair Manual: ECU Power Source Circuit
DESCRIPTION
This circuit is the power source circuit to operate the parking assist ECU. The parking assist ECU controls the panoramic view monitor system.
WIRING DIAGRAM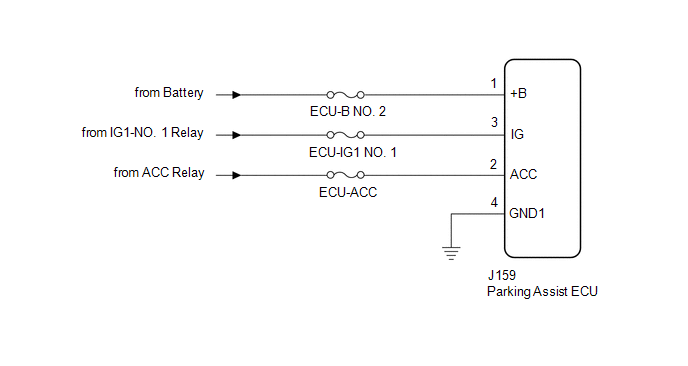 CAUTION / NOTICE / HINT
NOTICE:
Inspect the fuse for circuits related to this system before performing the following inspection procedure.
HINT:
If the parking assist ECU does not operate due to a power source problem, other system DTCs may be stored due to a CAN communication interruption.
PROCEDURE
| | |
| --- | --- |
| 1. | CHECK HARNESS AND CONNECTOR (PARKING ASSIST ECU - BODY GROUND) |
(a) Disconnect the J159 parking assist ECU connector.
(b) Measure the resistance according to the value(s) in the table below.
Standard Resistance:
| Tester Connection | Condition | Specified Condition |
| --- | --- | --- |
| J159-4 (GND1) - Body ground | Always | Below 1 Ω |
| | | |
| --- | --- | --- |
| NG | | REPAIR OR REPLACE HARNESS OR CONNECTOR |
OK

| | |
| --- | --- |
| 2. | CHECK HARNESS AND CONNECTOR (PARKING ASSIST ECU POWER SOURCE) |
(a) Measure the voltage according to the value(s) in the table below.

Standard Voltage:

Tester Connection

Condition

Specified Condition

J159-1 (+B) - J159-4 (GND1)

Always

11 to 14 V

J159-2 (ACC) - J159-4 (GND1)

Engine switch on (ACC)

11 to 14 V

Engine switch off

Below 1 V

J159-3 (IG) - J159-4 (GND1)

Engine switch on (IG)

11 to 14 V

Engine switch off

Below 1 V

*a

Front view of wire harness connector

(to Parking Assist ECU)
| | | |
| --- | --- | --- |
| OK | | PROCEED TO NEXT SUSPECTED AREA SHOWN IN PROBLEM SYMPTOMS TABLE |
| | | |
| --- | --- | --- |
| NG | | REPAIR OR REPLACE HARNESS OR CONNECTOR |
Lexus RX (RX 350L, RX450h) 2016-{YEAR} Owners Manual
Lexus RX (RX 350L, RX450h) 2016-{YEAR} Repair Manual
Chevrolet Trax (2013-2022) Owner's Manual