Lexus RX (RX 350L, RX450h) 2016-2023 Owners Manual: USB photo
Connecting a USB memory device enables you to enjoy photo on the Lexus Display Audio display.
USB photo screen
Go to "USB Photo": "MENU" button → "Info" → "USB1 Photo" or "USB2 Photo"
Menu screen
Move the controller to the left to display the menu screen.
Change the full screen mode.
Select to set the slide show display on/off.

Start the slide show at a selected folder.

Change the play speed.
Change the play mode.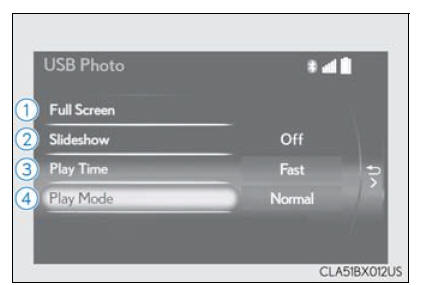 Selecting a folder and a file
1. Move the controller to the right and select "Browse".
2. Select the desired folder, and then select a desired file to begin using the selected folder.
■ USB memory
Compatible devices
USB memory device that can be used for JPEG display.
Compatible device formats
The following device format can be used:

USB communication format: USB2.0 FS (480 Mbps)
File system format: FAT16/32 (Windows)
Correspondence class: Mass storage class

JPEG file compatibility

Compatible image size: Maximum 10MB
Compatible pixel size: Maximum 10,000,000 pixels
Weather information
Weather information for the selected city is displayed.
Available when in weather supported HD Radio coverage area.
How to check the weather information
1. Go to "Weather": "MENU" button → "Info" → "Weather"
2. Select the desired city/location.
Current location of your car
Select of the recently checked location list
Select the desired location on the recently checked location list.
Select of the National City list.
Select the region on the region list and then select the city on the National City list.
Select of the local location list
Select the location on the local location list.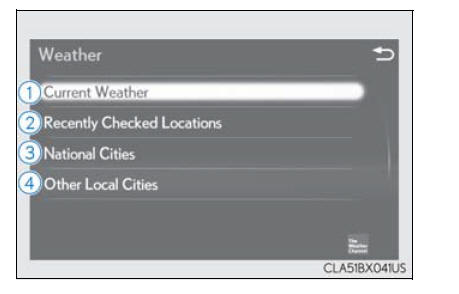 ■ Select the time Select "Current Weather" on the "Weather" screen.
Display the current weather information.
Display the 3 days weather information.

You can display detail of a week, move the controller right and then select the desired week.

Display the 6/12 hour weather information.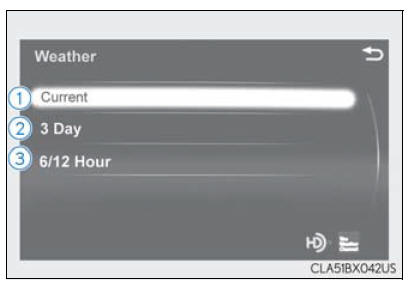 Lexus RX (RX 350L, RX450h) 2016-{YEAR} Owners Manual
Lexus RX (RX 350L, RX450h) 2016-{YEAR} Repair Manual
Chevrolet Trax (2013-2022) Owner's Manual