Lexus RX (RX 350L, RX450h) 2016-2023 Owners Manual: Front seats
Adjustment procedure
Seat position adjustment switch
Seat cushion (front) angle adjustment switch
Vertical height adjustment switch
Seatback angle adjustment switch
Lumbar support firmness adjustment switch
Lumbar support height adjustment switch (if equipped)
Seat cushion length adjustment switch (if equipped)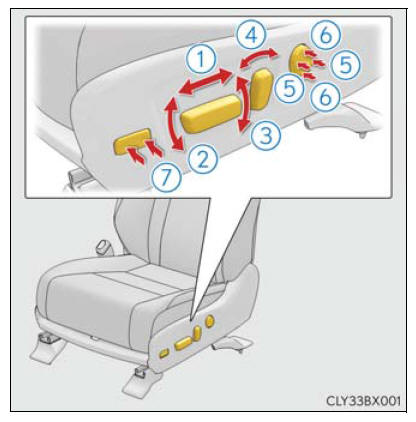 ■ Power easy access system The driver's seat (on some models) and steering wheel move in accordance with power switch mode and the driver's seat belt condition.
WARNING
■ When adjusting the seat position
■ Seat adjustment To reduce the risk of sliding under the lap belt during a collision, do not recline the seat more than necessary.
If the seat is too reclined, the lap belt may slide past the hips and apply restraint forces directly to the abdomen, or your neck may contact the shoulder belt, increasing the risk of death or serious injury in the event of an accident.
Adjustments should not be made while driving as the seat may unexpectedly move and cause the driver to lose control of the vehicle.
Lexus RX (RX 350L, RX450h) 2016-{YEAR} Owners Manual
Lexus RX (RX 350L, RX450h) 2016-{YEAR} Repair Manual
Chevrolet Trax (2013-2022) Owner's Manual