Lexus RX (RX 350L, RX450h) 2016-2023 Owners Manual: Mobile Assistant
The Mobile Assistant feature will activate Apple's Siri Eyes Free mode via the steering wheel switches. To operate the Mobile Assistant, a compatible cellular phone must be registered and connected to this system via Bluetooth.
1. Press and hold the off hook switch until you hear the beeps that indicate the system is listening.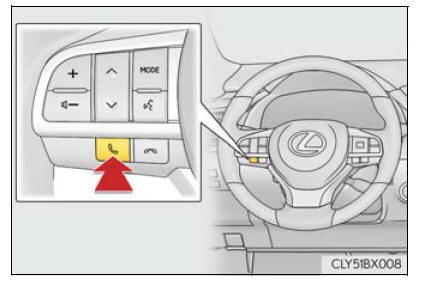 2. The Mobile Assistant can be used only when the neighboring screen is displayed.
To cancel the Mobile Assistant, select "Cancel", or press and hold the off hook switch.
To restart the Mobile Assistant for additional commands, press the off hook switch. Mobile Assistant can only be restarted after the system responds to a voice command. After some phone and music commands, the Mobile Assistant feature will automatically end to complete the requested action.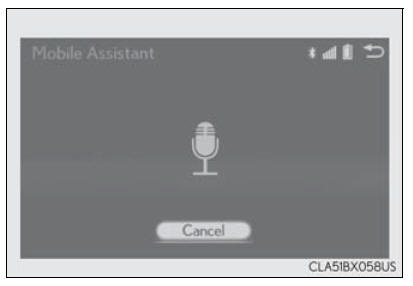 ■ Adjusting the volume The volume of the Mobile Assistant can be adjusted using the "PWR*VOL" knob or steering wheel volume switches. The Mobile Assistant and phone call volumes are synchronized.
■ Microphone It is not necessary to speak directly into the microphone when using the Mobile Assistant.
Wait for the listening beeps before using the Mobile Assistant.
The Mobile Assistant may not recognize commands in the following situations:

When spoken too quickly.
When spoken at a low or high volume.
When the roof or windows are open.
When passengers are talking while the Mobile Assistant is being used.
When the air conditioning system's fan speed is set high.
When the air conditioning vents are turned toward the microphone.
■ Mobile Assistant precautions
The available features and functions may vary based on the iOS version installed on the connected device.
Some Siri features are limited in Eyes Free mode. If you attempt to use an unavailable function, Siri will inform you that the function is not available.
If Siri is not enabled on the cellular phone connected via Bluetooth, an error message will be displayed on the screen.
While a phone call is active, the Mobile Assistant cannot be used.
If using the navigation feature of the cellular phone, ensure the active audio source is Bluetooth audio or iPod in order to hear turn by turn direction prompts.
Lexus RX (RX 350L, RX450h) 2016-{YEAR} Owners Manual
Lexus RX (RX 350L, RX450h) 2016-{YEAR} Repair Manual
Chevrolet Trax (2013-2022) Owner's Manual