Lexus RX (RX 350L, RX450h) 2016-2023 Owners Manual: Using the multi-information display
Using the content display area
The content display area is operated using the meter control switches.
:Select menu icons
:Change displayed content, scroll up/down the screen and move the cursor
Press: Enter/Set
Press and hold: Reset
Return to the previous screen
Pressing and holding the switch will display the first screen of the selected menu icon.
Press: Display the top screen
Press and hold: Register current screen as the top screen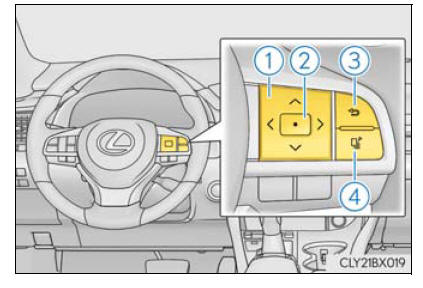 ■ Registering a top screen The displayed top screen can be changed to a registered screen of your choice.
To register a screen as the top screen, display the desired screen and press and hold

.
A message asking to confirm if registration is desired will be displayed. If the selected screen cannot be registered, a registration failure message will be displayed.
When no screen has been registered, the drive information screen will be displayed.
■ Resetting drive information To reset the average fuel economy (after reset)/average vehicle speed (after reset)/elapsed time (after reset) that are displayed on

, display the desired item and press and hold

.
If both of the displayed items are resettable, a message will be displayed asking which item(s) to reset.
Using the odometer/trip meter display area
Items in this area are operated using the "ODO/TRIP" switch.
Press: Change displayed item
Each time the switch is pressed, the displayed item will be changed.
Press and hold: Reset
Display the desired trip meter and press and hold the switch to reset the trip meter.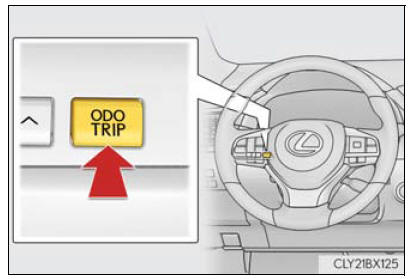 Lexus RX (RX 350L, RX450h) 2016-{YEAR} Owners Manual
Lexus RX (RX 350L, RX450h) 2016-{YEAR} Repair Manual
Chevrolet Trax (2013-2022) Owner's Manual